Enormous rise of the software industry for the last two decades results in an ever growing demand for IT skills. According to Global Knowledge, the world's leading provider of IT and professional training services, as much as 70% of global industry faces a shortage of necessary IT skills. Coders are missing, and yet, traditional school curricula do not seem to respond to this trend. In the US, for instance, only 40% of schools teach programming, as HourOfCode.org reports. While traditional public education schemes fail (or do not even try) to tackle the labor market mismatch problems, the space arises for bootcamps - training centers that approach this issue in an alternative, dynamic and effective manner.
Intensive training, worthwhile rewards
Coding bootcamps are intensive programs of software development and IT skills. Bootcamp approach is based on high-intensity training. Courses curricula consist of highly condensed knowledge which, normally obtained by students during multi-year programs, is conveyed to them within weeks. The mission of coding bootcamps is not only to equip students with practical knowledge but also to support them in the process of job search. Majority of bootcamps graduates manage to find new jobs within few months after finishing the course. The idea of accelerated learning in IT made its debut in 2011 and since then it has been gathering more and more followers. In 2017, bootcamps graduated over 23.000 developers. This number is expected to grow.
Hiring juniors trained in programming bootcamps is not only a way to simply fill in the gap in IT companies employment. Such employees enrich enterprises with unique values, like diversity, resulting from the fact that they represent various educational backgrounds, which widens their intellectual horizons. They also enhance business with eagerness to look for positive change, the same that pushed them to put their life on hold for long weeks and attend a bootcamp and change their whole career.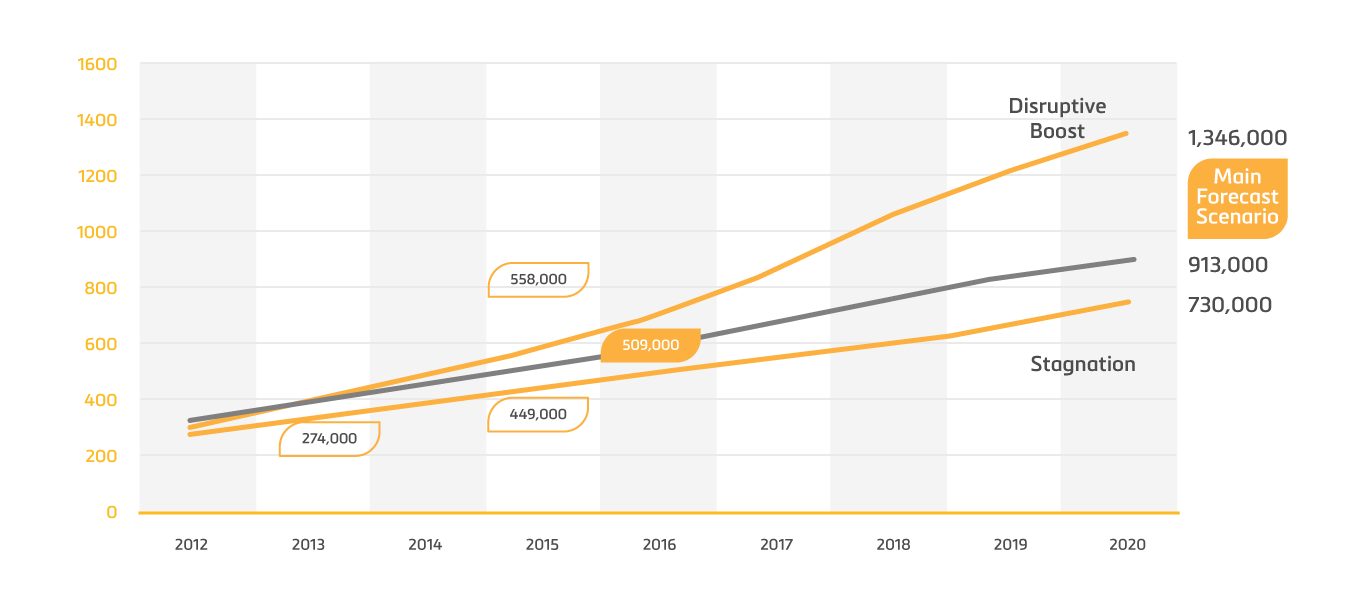 900 000+
developers will be needed in Europe by 2020
Source: European Commission
Labor market needs bootcamps and effective result-oriented education
According to the European Commission, European countries can suffer a total shortage of over 900,000 skilled ICT workers by 2020. Spain is by no means excluded from this trend. Despite overcoming a decade-lasting economic crisis, country's economy still has to deal with the problem of unemployment at the double digit levels, tripling the OECD average. Being chronically out of work for many people has led to erosion of their professional skills.
However, obsolescence of knowledge is a threat not only to the long-term unemployed. Information technology students deciding about their education path today risk that the technology they choose will turn out to be outdated when they enter the labor market. This is, again, where the bootcamps step in with their unique offer.
EU regulations imply that member country should source 20% of their GDP from industry-related businesses. In pursue of this goal, Spain launched the Connected Industry 4.0 program, aiming at reindustrializing the economy, which should stimulate further rise in demand of IT specialists. To some extent this demand will be satisfied by outsourcing. Nevertheless, it is not a hassle-free idea. Some Spanish companies seeking for IT skills turn to south American countries, where language amenities are diminished by the time difference inconveniences. Others go to India, where affordable prices are not always followed by quality. For Spanish business growth of domestic IT labor assets really may become a salvation. Especially because Spanish labor market, as the European University Institute predicts, is forecast to lose 30 percent of young workers. And by the end of 2025 Spain would need more than 4 million of new workers.
Potential to learn, potential to earn
By 'IT specialists' we no longer mean only software developers. They still constitute the group with the largest predicted jobs shortage (25,000-50,000 jobs), but there is much more to the term. Spain will also lack specialists in digital visual design and creativity (14,000-45,000 jobs), as well as big data specialists. Despite dynamic market trends, not all bootcamps realize the need to come up with a complex and broad product portfolio. Coders Lab is among the few which adapt their courses portfolio to the constantly developing market demand. With 5 year experience and the offer made of 12 courses the company has made its way to the leader's position on the Polish bootcamp market, growing its revenues at the average yearly rate of 400%.
Reports by Coding Bootcamp Market Report state that the industry is expected to grow at a CAGR of 11% during the period 2017-2021. We would like to offer you an out-of-the-box solution to enter this industry instantly, taking advantage of Coders Lab's experience, know-how, ready-made courses and support. Together we can be part of this great education phenomenon and create a global brand.